Choosing the Right Realtor: How to Find Your Perfect Match
Posted by Anurag Sharma on Tuesday, September 12, 2023 at 3:55 PM
By Anurag Sharma / September 12, 2023
Comment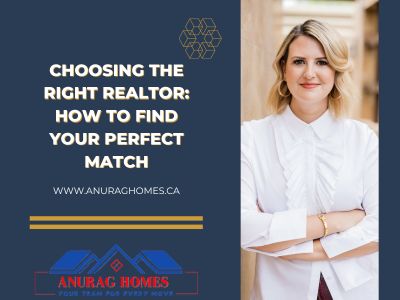 If you're ready to start the home buying or selling journey then you're in for quite the treat! Arguably the most important step in both buying or selling real estate is choosing your realtor. Finding the perfect realtor for you can seem daunting, but that's why we are here to help guide you through the process, giving you tips and tricks to help you find the realtor who will ultimately help you achieve your real estate dreams.
1. Define Your Objectives
Before embarking on your search for a Realtor, it's crucial to clarify your real estate goals. Are you looking to buy or sell? What type of property are you interested in? Establishing your objectives will help you identify a Realtor who specializes in your specific needs. For example, if a realtor is more experienced in the city setting and specializes in condos, you may not want to hire them to help you find the perfect home in the suburbs.
2. Seek Recommendations
Testimonials and reviews speak volumes. Start by reaching out to friends, family members, and colleagues who have recently bought or sold a property. Their first-hand experiences can lead you to trustworthy Realtors who have a proven track record. It's also important to note that in some cases a family-friend might not be the best realtor for you, make sure you are choosing someone based on their experience and not your heart.
3. Verify Credentials and Experience
Ensure that the Realtors on your shortlist are licensed and in good standing with the relevant real estate authorities. Beyond licensing, consider their experience in the industry. Experienced Realtors often possess a deeper knowledge of local markets and can navigate complex transactions with ease.
4. Conduct Interviews
Don't hesitate to set up interviews with multiple Realtors. This is your opportunity to get to know them better and assess their compatibility with your needs. Inquire about their approach to real estate, their familiarity with your desired neighborhood, and their recent success stories. Effective communication and a good rapport are key.
5. Local Market Expertise
A Realtor's knowledge of the local market is paramount. They should be well-versed in neighborhood nuances, property values, and current market trends. A Realtor with strong local expertise can guide you toward the best opportunities.
6. Check Availability and Communication
Effective communication is crucial throughout your real estate journey. Discuss the Realtor's availability and preferred methods of communication. You should feel confident that they will be responsive to your questions and concerns at every stage of the process.
7. Trust Your Instincts
Ultimately, trust your instincts. Your Realtor is your partner in this journey, so it's important that you feel comfortable and confident in your choice. Choose a Realtor who aligns with your vision and understands your unique needs.
8. Transparency in Agreements
Before finalizing your decision, ensure that you have a clear, written agreement outlining the terms, fees, and responsibilities of both parties. This will help prevent any misunderstandings down the road and ensure a smooth working relationship. Don't be afraid to ask questions if anything within the contracts seems unclear, after all, your agent will be working for you, so you're the boss!
We believe that your Realtor should be your trusted guide on your real estate journey. By using these helpful tips and tricks and doing your research you can find a realtor who is sure to help you achieve all of your real estate needs. If you're ready to make your real estate dreams come true, contact us today to embark on your journey with confidence. Your dream home or successful property sale is just a step away!