Selling Your House 2024: 10-Tip Home Selling Checklist
Posted by Anurag Sharma on Tuesday, August 29, 2023 at 12:05:37 PM
By Anurag Sharma / August 29, 2023
Comment
It's the perfect time of the new year and you are readying your home to sell it. There are certain steps to take to help your sale go as smoothly as possible. We have compiled a checklist of effective home preparation and various staging tips to get your house on and off the market as quickly as the blink of an eye.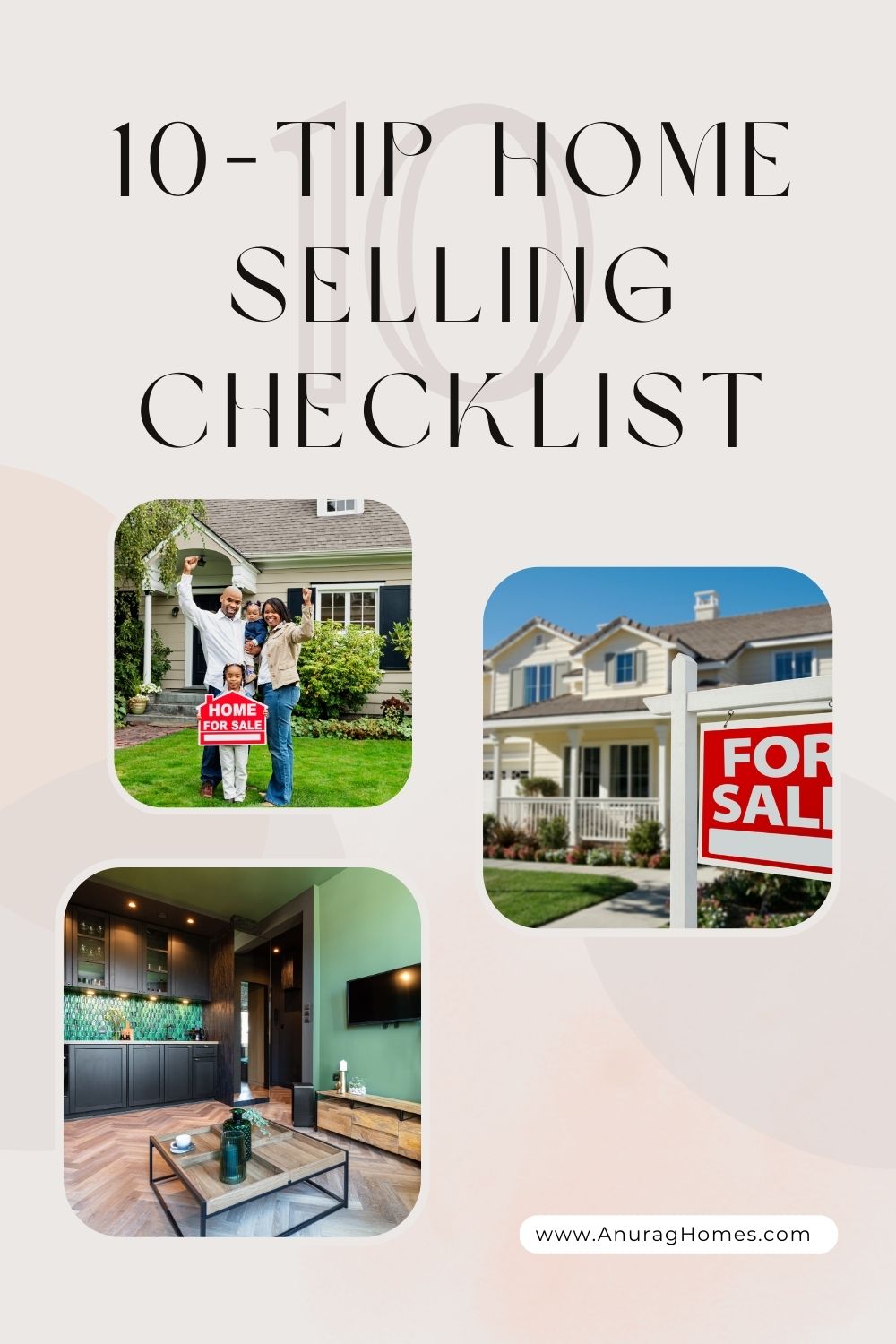 Here's what to do to sell your house.
1. Partner With a Real Estate Agent
A top agent in your area can get your house sold far quicker than if you were to try to market it yourself. Working with an agent allows exposure to your house, and the more people that know about your home, the more likely the highest price for the house will be the outcome. Buyers who procure a real estate agent bring in serious buyers who are prepared to spend to get what they are paying for. There are many benefits to yourself when listing with a top real estate agent in your area, from pricing to paperwork to negotiations with buyers and more. It is an agent's job to know what a buyer is interested in and what features help sell homes for the top prices.
2. Declutter and Depersonalize
It can be difficult for a potential buyer to imagine themselves living in your home if it is cluttered with all of your personal belongings. If your home is overcrowded with furniture and other items, the space can't be viewed or appreciated properly. Rooms should feel big, and reducing clutter can bring you a pretty penny. Go room to room and declutter to stage each room properly.
3. Hide Valuables
Hiding your valuables is just as important as the decluttering process as it protects yourself and your valuables when your house is open to the public for viewing. Securing your medicine in a lockbox, making sure your passwords are not visible, jewelry, keys, and other valuables that may be tempting to nab should all be secured.
4. Deep Clean
Once your home is decluttered, you may notice the dust bunnies that once resided under your furniture are now out in the open. When you are prepared to tackle cleaning, we advise making a separate list. Kitchens and baths are the perfect place to first declare your war on grime. Appliances like the refrigerator, dishwasher, and oven should be included. Mirrors and faucets should shine. Scour the grout, wash the walls, and mop. Every room should gain your attention. Think of fresh linens on the beds, shampooed carpets, and dust-free knick-knacks.
5. Make Repairs
Every homeowner knows that maintenance and repairs are continually chased after. When you are trying to sell your home, leaving those items on your to-do list can give a bad first impression. If the little things haven't been dealt with, then buyers will only guess at the bigger problems that have been neglected. This can turn potential buyers away or lead to low offers. Instead, we suggest you get ahead of it by creating a daily, weekly, and monthly seasonal checklist of maintenance and repairs that should be kept on top of, ensuring that you won't fall behind.
6. Enlist an Exception on Your Home
Repairs are necessary to pass the home appraisal and home inspection. An inspection of your home is a requirement for mortgage loans, and during an inspection, a home inspector will perform a visual inspection to report any health, safety, and mechanical issues that don't meet the state's standards. Common issues many run into can include water damage, roof condition, electrical problems, or structural flaws. An appraiser usually finds something wrong with a house, and it is up to the seller to fix it.
7. Apply Upgrades (Inexpensive)
Some inexpensive home projects are enough to help you sell your home for more. For buyers, their eyes will first be drawn to the kitchen, arguably the most important room in the house. Consider updating cabinets and countertops. Bathroom renovations too can be a hit for buyers. As far as structural renovations go, acquire the necessary permits or you may find you have run into trouble with the appraisal
8. Don't Make Unnecessary Home Improvements
Not all upgrades that seem necessary are worth the investment, such as renovating an attic. Renovation can go too far, and you don't want to own the most expensive house on the block or over-improve your neighborhood. Big upgrades may not be worth the investment, so keep in mind that personal preferences vary from person to person. Sometimes, less truly is more!
9. Stage Your Home
Staging will affect a buyer's impression of a home. A bonus to staging can decrease the amount of time that the home is on the market. After decluttering and depersonalizing, you can create a welcoming vibe to encourage buyers to picture their family enjoying the space. We recommend the following:
Add a tablescape in the dining room.
Update kitchen appliances.
Add throw pillows, a throw that invokes cozy feelings, a colorful rug, and good lighting throughout the house.
Go with gender-neutral colors and decor for the master bedroom to give it a restful appeal.
Turn your bathroom into an envious spa with thick towels and a candle.
Open curtains to allow natural light.
If budget is a concern, remember that less is more! If your home is spotless, decluttered, and depersonalized, it is in good shape for showings.
10. Refreshen Curb Appeal
Before you expect buyers to enter your home to see your clean, well-staged home, you have to hook and reel them in with dazzling curb appeal. The importance of curb appeal cannot be understated, as it is essential in attracting buyers. Beautiful curb appeal lures buyers, though you must be careful that it does not garner money from your home. Presentation is important in increasing the speed of the sale and ensuring the highest price that the home will bring in. We recommend the following:
Clean your home's exterior. Do pressure washing of the house, sidewalk, patio, and deck. Get rid of the grime, and for extreme dirt, you can use a plant-safe cleaning solution.
Lighten up the home's exterior. Lighten up the way with solar or low-voltage lights in the driveway and on the sidewalks. Solar-powered spotlights should be placed in the flower beds aimed at the sidewalk to guide guests to the interior.
Spruce up the yard. Mow the grass, replant flowers, and add mulch.
Add small touches. Add a new doormat, repaint the mailbox, and add anything that can enhance your entryway.
For more information on selling your Waterloo or Kitchener house in 2024, Contact our office today!