The Ultimate Guide to Buying a Home in Kitchener: Tips and Insights
Posted by Anurag Sharma on Tuesday, August 15, 2023 at 2:18:45 PM
By Anurag Sharma / August 15, 2023
Comment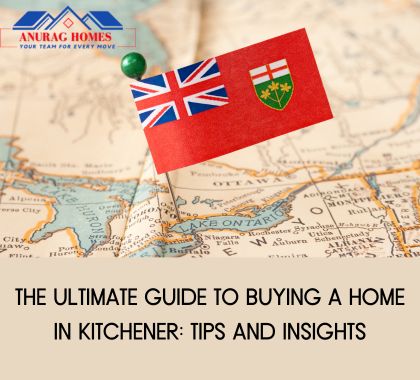 Are you considering buying a home in Kitchener? As one of Ontario's fastest-growing cities, Kitchener offers a vibrant community, a strong job market, and a thriving real estate market. However, navigating the home-buying process can be overwhelming, especially for first-time buyers. This guide will provide you with valuable tips and insights to help you make informed decisions and find your dream home in Kitchener.
Understanding the Kitchener Real Estate Market
Before embarking on your home-buying journey, it's crucial to understand the Kitchener real estate market. Research recent trends, such as housing prices, inventory levels, and average days on the market. By having a solid grasp of market conditions, you'll be better equipped to make competitive offers and negotiate effectively.
Setting a Budget and Securing Financing
Determining your budget is a critical step in buying a home. Evaluate your financial situation, including your income, savings, and debt obligations. This will help you establish a realistic budget for your home purchase. Once you have a budget in mind, it's essential to secure financing. Shop around for mortgage lenders and compare interest rates, loan terms, and down payment requirements. Getting pre-approved for a mortgage will give you a clear idea of your buying power and enable you to act quickly when you find the right property.
Researching Neighborhoods and Amenities
Kitchener is a city with diverse neighborhoods, each offering its unique character and amenities. Take the time to research different neighborhoods and consider factors such as proximity to schools, parks, shopping centers, and transportation options. Think about your lifestyle preferences and prioritize the amenities that matter most to you. Visiting neighborhoods in person and talking to residents can provide valuable insights into the community.
Working with a Real Estate Agent in Kitchener
Partnering with a knowledgeable and experienced real estate agent in Kitchener is highly recommended. A local agent can guide you through the home-buying process, provide expert advice, and help you find properties that match your criteria. They have access to exclusive listings and can negotiate on your behalf. Interview multiple agents and choose someone who understands your needs, communicates effectively and has a proven track record in Kitchener's real estate market.
Making Offers and Negotiating the Purchase
Once you've found a property that meets your requirements, it's time to make an offer. Your real estate agent will assist you in preparing a competitive offer based on market research and the property's value. Consider factors like recent comparable sales, the condition of the property, and the seller's motivations. Be prepared for negotiation and be willing to compromise to reach an agreement that is satisfactory to both parties.
Conducting Inspections and Due Diligence
After your offer is accepted, it's essential to conduct thorough inspections and due diligence on the property. Hire a qualified home inspector to assess the condition of the house, including its structural integrity, electrical systems, plumbing, and other important aspects. Review all relevant documents, such as property disclosures and the title report. If any issues arise during inspections, you can negotiate repairs or request credits from the seller.
Closing the Deal and Becoming a Homeowner
Once all contingencies have been met, it's time to close the deal and become a homeowner. Work closely with your real estate agent and attorney to ensure all necessary paperwork is completed accurately. Coordinate with your mortgage lender to secure the final loan approval and arrange for the transfer of funds. On the closing day, you'll sign the necessary documents, pay closing costs, and receive the keys to your new home.
In Conclusion
Buying a home in Kitchener can be an exciting and rewarding experience. By understanding the market, setting a budget, researching neighborhoods, working with a real estate agent, negotiating effectively, conducting inspections, and closing the deal, you'll be well-equipped to make informed decisions and find the perfect home in Kitchener. Good luck with your home-buying journey!
If you're seeking additional information about the real estate market in Kitchener, Ontario, we would be delighted to assist you. Our team is well-versed in the intricacies of the local housing market and can provide you with valuable insights and guidance to help you make informed decisions.
Kitchener, situated in the Waterloo Region, boasts a vibrant and growing real estate sector. Whether you're interested in residential properties, commercial spaces, or investment opportunities, our experts have extensive knowledge of the market trends, property values, and various neighborhoods within Kitchener.
Please feel free to contact us through the provided channels, and our dedicated team will be more than happy to answer your queries, discuss your specific requirements, and provide personalized advice tailored to your needs. We look forward to assisting you in your real estate journey in Kitchener!