Chicopee and Freeport Kitchener Real Estate
Homes and Houses for Sale in Chicopee and Freeport
Chicopee is a neighborhood located in Kitchener, Ontario. It is known for its outdoor recreational facilities, particularly Chicopee Ski & Summer Resort. The resort offers skiing, snowboarding, tubing, and other winter activities during the colder months, and hiking, mountain biking, and disc golf during the summer. Chicopee also has a residential area surrounding the resort, where people live and enjoy the proximity to outdoor activities.
Whether it's a condo or a house, estate, or property of any kind, trust your next real estate purchase to Anurag Homes, experts in Kitchener Ontario real estate and properties. Sign up for our property tracker to be notified when new listings in this area become available, save your favourites or contact our office below the listing for a personal touch to your home-buying experience. We are your Kitchener Realtors® and would love to help you find the perfect home today.
Chicopee and Freeport Real Estate
September 23, 2023
Search Kitchener Neighbourhoods
Things to Do in Chicopee
Chicopee, as mentioned earlier, is a neighborhood in Kitchener, Ontario. While it is primarily known for its ski resort, there are several other activities and attractions you can enjoy in and around Chicopee. Here are some things to do in Chicopee: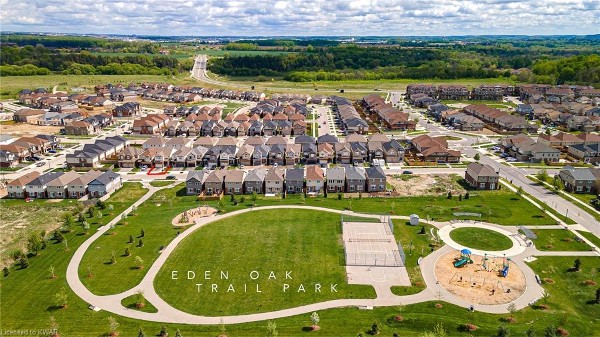 Chicopee Ski & Summer Resort: The main attraction in Chicopee is the Chicopee Ski & Summer Resort. During the winter months, you can enjoy skiing, snowboarding, and tubing on the slopes. In the summer, the resort offers activities like hiking, mountain biking, and disc golf. It's a great place for outdoor enthusiasts to have fun and stay active.
Chicopee Tube Park: If you're looking for some winter fun but prefer tubing over skiing or snowboarding, Chicopee Tube Park is the perfect place for you. Grab a tube and slide down the specially designed tubing lanes. It's a thrilling and enjoyable activity for people of all ages.
Explore nearby parks and trails: Chicopee is surrounded by natural beauty, and there are several parks and trails in the area where you can go for a walk, hike, or bike ride. For example, McLennan Park is a large green space nearby that offers trails, sports fields, a splash pad, and a skatepark.
Visit Kitchener attractions: Since Chicopee is a neighborhood within Kitchener, you can easily explore the attractions and activities in the wider city. Visit THEMUSEUM, a unique museum with interactive exhibits, or explore the Kitchener-Waterloo Art Gallery. Attend festivals and events like the Kitchener-Waterloo Oktoberfest or the Kitchener Blues Festival, which are held in various locations throughout the city.
Explore downtown Kitchener: Take a trip to downtown Kitchener and explore the vibrant core. Discover local shops, restaurants, and cafes. You can also visit the Kitchener Farmers Market, which offers a wide variety of fresh produce, local goods, and delicious food.
These are just a few examples of things you can do in and around Chicopee. Whether you're looking for outdoor adventures or cultural experiences, there's plenty to explore in this area of Kitchener.
Chicopee Schools
Chicopee is a neighborhood within the city of Kitchener, Ontario, Canada. The school district that serves Chicopee falls under the jurisdiction of the Waterloo Region District School Board and the Waterloo Catholic District School Board.
Waterloo Region District School Board (WRDSB): The WRDSB operates public schools in the Waterloo Region, including Kitchener. The board offers a range of educational programs from kindergarten to grade 12. Some public schools in the vicinity of Chicopee include:
Chicopee Hills Public School
Laurentian Public School
Pioneer Park Public School
Country Hills Public School
Waterloo Catholic District School Board (WCDSB): The WCDSB is responsible for providing Catholic education in the Waterloo Region, including Kitchener. They operate several Catholic schools in the area. Some Catholic schools near Chicopee include:
St. Paul Catholic Elementary School
St. John Paul II Catholic School
St. Timothy Catholic Elementary School
St. Anne Catholic Elementary School
It's important to note that school assignments may vary based on residential address and enrollment availability. If you have a specific address in Chicopee, it's advisable to contact the respective school boards for the most accurate information regarding school assignments and enrollment procedures.
Chicopee Real Estate
Chicopee, a neighborhood in Kitchener, Ontario, Canada, offers a variety of residential property types, including single-family homes, townhouses, and apartments. Housing prices in Chicopee vary based on factors like property size, age, location, and condition. The area is appealing due to its proximity to the Chicopee Ski & Summer Resort and other outdoor recreational areas. It is conveniently located near major roadways, shopping centers, schools, and amenities. The real estate market in Kitchener-Waterloo has shown steady growth, driven by a strong job market, renowned educational institutions, and a high quality of life. For specific information on Chicopee listings and market conditions, contacting local real estate agents or using specialized online platforms is recommended.
If you would like more information on Chicopee Freeport real estate listings, contact us. We would be happy to assist you with the request for more information you need or to schedule a home tour. Chicopee Freeport is a beautiful place to call home and we would be delighted to be a part of your homebuying journey.
Contact Your Kitchener Realtor®